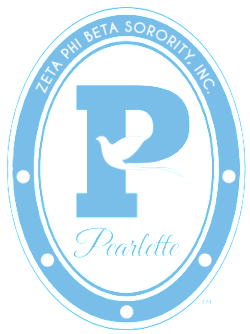 The Pearlettes were adopted by Zeta Phi Beta Sorority, Inc. as a national youth auxiliary during the 74th National Conference held in Orlando, Florida in July 1994. These girls, who are ages 4-8, assure the preservation of and broaden the sorority's horizon.
Tau Eta Zeta Chapter's Pearlette Club has been in existence since 2004. Don't let their young age have you think that they don't work. Our youngest group has many signature activities, which includes a "Welcome Back" party, a visit to Elioak Farms for fall festivities and pumpkin picking, their "Sweetheart Bake Sale" and annual "Mother/Daughter Tea". In addition to all of those activities, the Pearlettes still have time to assist their Amicette and Archonette sisters in community service projects. During Tau Eta Zeta Chapter's signature "Heart for the Homeless" event, the Pearlettes usually assist by handing out snacks and smiles. Though the Pearlettes are young in age, they (with some assistance of course) do a lot and truly stand out amongst our youth auxiliaries.
Should you have a daughter or loved one interested in being a Pearlette, contact us for more information.