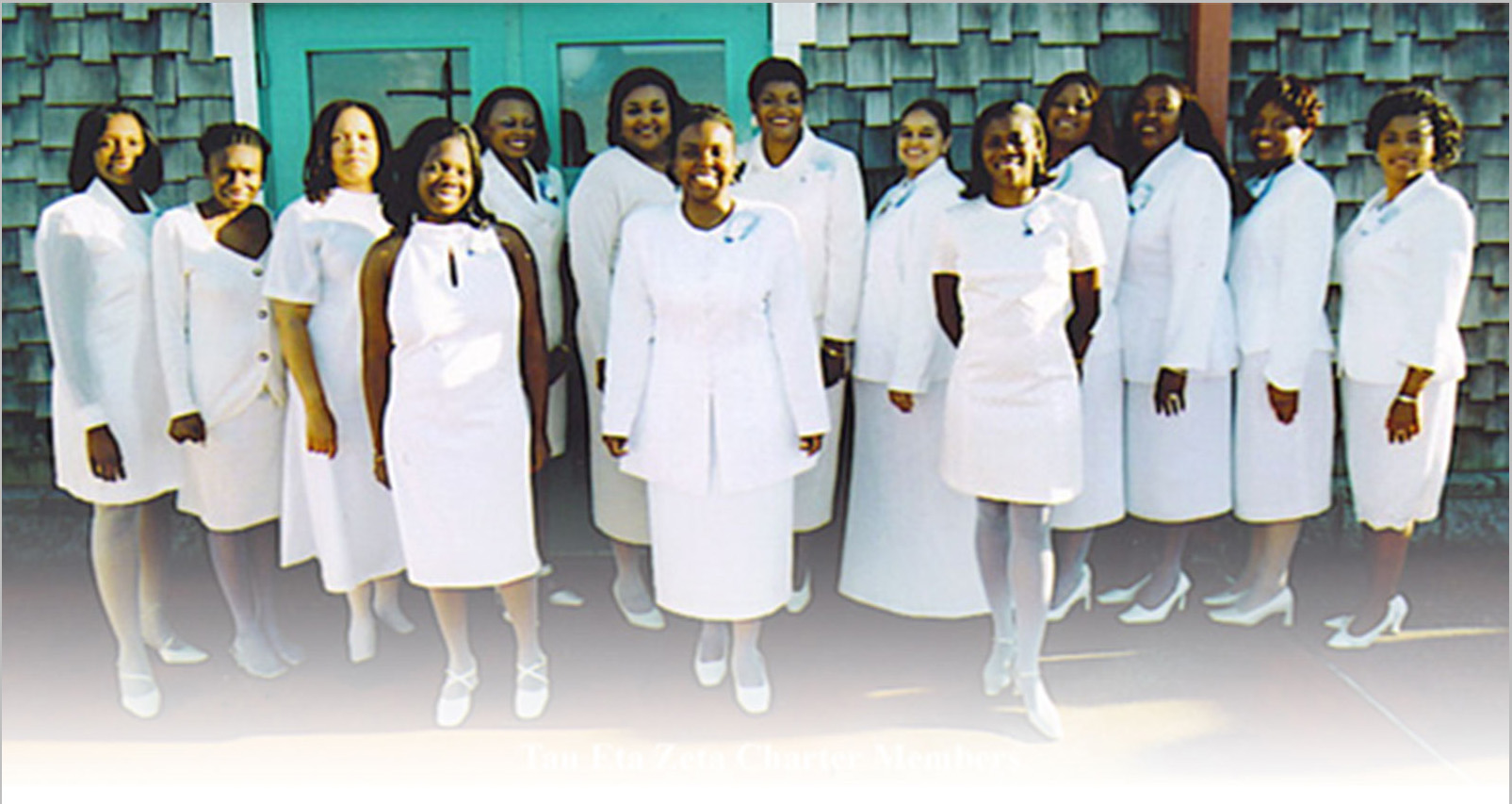 Tau Eta Zeta Chapter History
On August 5, 2003, Zeta Phi Beta Sorority, Inc. expanded its realm by charting Tau Eta Zeta Chapter as the second graduate chapter in Baltimore, Maryland. The Chartering members are Dawn M. Barnes, Helen D. Dunkley, Tamera D. Farrar, LeaAndra K. Faulkner, Tamara D. Harris, Cheryl A. Harrison, Sharon K. Harvey*, Dionis A. Hussey, Yolanda M. Jackson, Jackie L. Knight, Brenda McKinley, Lisa M. Nixon, Tiffani R. Smith and Hyacinth A. Walker.
The fourteen ambitious chartering members had the drive, dedication, skills and knowledge required to promote and implement their goals to make a difference in the community and represent Zeta Phi Beta Sorority Inc. in only the highest ideals.
The first initiates of Tau Eta Zeta Chapter were Oluyemisi Adekunle, Celere N. Leonard and La Toya M. Tittle.  The chapter has grown from 14 charter members to over 75 members within a short amount of time through recruitment, reclamation and retention of members.
Since 2003, Tau Eta Zeta Chapter has been busy serving the community, supporting National, Regional, State and Local initiatives and expanding its membership.  Some of the chapter's accomplishments are listed below.
2004 – Tau Eta Zeta Chapter established all 3 youth auxiliaries (Pearlettes, Amicettes and Archonettes). Each youth group has grown and maintained an active status.
2008 – The chapter partnered with the local chapter of March of Dimes and the Baltimore Medical System at St. Agnes to establish a Stork's Nest to service pregnant women in need. Also, the chapter officially established the Sharon K. Harvey Memorial Foundation which became 501(c) 3 in 2013.
2013 – The chapter adopted Edgecombe Circle Elementary/Middle School as a part of a National initiative. The chapter is committed to supporting the children by annually donating school supplies and books, hosting health fairs and celebrating students for perfect attendance and achieving excellent grades.
Tau Eta Zeta Chapter has partnered with many organizations over the years and continues to give back.  Annually in January, the chapter sponsors Heart for the Homeless, a clothing and toiletry drive for homeless men and women in downtown Baltimore.  Donations collected along with food are served directly to those in need.  In 2010, the Z-HOPE Day of Service event was born.  This is an annual service fair, held in March, where various vendors and healthy demonstrations are available to the community.  Also, the chapter hosts an annual Domestic Violence Seminar in February and HIV Awareness Program in December.  The chapter is passionate about these two issues and has recently adopted annual Mental Health Awareness activities for May.
The knowledge and skills possessed by chapter members will not only assist the sorority but they will also help THZ to continue to be a prominent force in the Baltimore community. For our 10th chapter anniversary, we adopted the slogan "Tenacious Hardworking and Zealous" which describes the dedication exemplified in the chapter.
Below is a picture of chapter members who hold the esteem honor of being the chapter's Zeta of the Year for their dedication and hard work.
*deceased