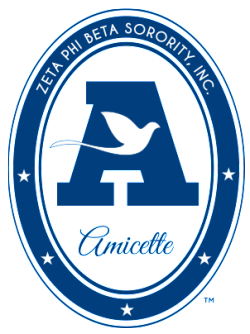 The first clubs were formed in the 1950's. They are composed of girls ages 9-13 who are matriculating in junior high schools. Amicettes strive for high ideals, demonstrate leadership qualities, and are willing to work as part of a group.
Tau Eta Zeta Chapter's Amicette Club has been in existence since 2004.  They participate in community service, leadership development, cultural experiences, career choice development, self-esteem building, and sisterly bonding.  Their activities include visits to the Reginald F. Lewis Museum, career & STEM fairs, theater visits, sleepover retreats, and other community-based activities.  Not only do the Amicettes conduct and participate in activities, but they are also serious about giving back.  Every year, the Amicettes participate in the March of Dimes Walk for Babies and assist Tau Eta Zeta Chapter in raising funds for this worthy cause.  They also have held coat and toy drives in order to the help the less fortunate students of a local middle/elementary school.  Despite their young age, the Amicettes truly serve as role models and are extremely eager to assist in their community and beyond.
Should you have a daughter or loved one interested in being an Amicette, contact us for more information.