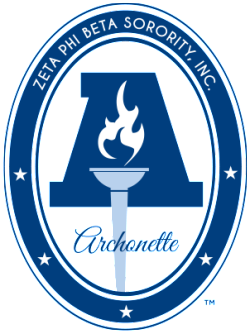 The first clubs were formed in the 1940's under the names of Zetalites, Lullelia Phis, and IZ's. These clubs were composed of young ladies between the ages 14-18 who are matriculating in senior high schools. In 1963, Houston's Lambda Zeta Chapter organized a teenage group called the Archonettes. The name caught the attention of other national senior-high youth auxiliary. Archonettes engage in special educational, and community service activities. They also assist in the Stork's Nests operations and facilitate Zeta's programs as needed. Currently, there are more than 100 Archonette groups.
Tau Eta Zeta Chapter's Archonette Club has been in existence since 2004.  Our Archonettes have been nothing short of pillars of success! From helping to feed the homeless, preparing meals on Thanksgiving Eve, to actively participating in and spreading the word about our signature HIV/Aids Awareness and Domestic Violence events, the Archonettes of Tau Eta Zeta have proven to be selfless young ladies that truly care about their community, as well as each other.  Not only are they supporting their community but they are also achieving scholastic success as well. Many of them have been accepted into numerous colleges/universities, receiving thousands of dollars in scholarship money, including full rides.  The Archonettes of Tau Eta Zeta Chapter continue to do big things and make their advisors and supporters proud.
Should you have a daughter or loved one interested in being an Archonette, contact us for more information.